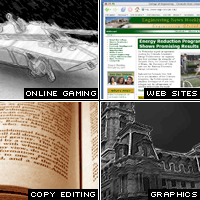 Quirkz Business:

The business side of Quirkz Media involves providing products and services such as online games, web site design, copy editing, and similar such features.

Press Release: November 11, 2007 - TwilightHeroes.com gets new servers. Initial enthusiasm exceeded all expectations, and the throngs of new players of Twilight Heroes quickly surpassed the capacity of the initial testing server. A new server setup was acquired, and conditions within the game have returned to a more responsive pace.

Press Release: October 31, 2007 - Quirkz Media launches TwilightHeroes.com. Today our online superhero-themed role-playing game goes beta and is open to the public.

Press Release: Summer, 2007 - Quirkz Media offices to relocate this summer. Our ability to provide services to clients anywhere around the globe will be unaffected.

Press Release: May. 29, 2007 - News/History page added to the Duct Tape art gallery.

Press Release: Feb. 20, 2007 - Quirkz Media becomes an official business


Quirkz Creative

Quirkz creative depicts some of the non-business creative efforts of the Quirkz Media team—primarily the owner, Ross Patty. A lot of these materials have been around for a while, and—especially in the case of the duct tape art gallery—they are things that we don't want to take off of the internet, so they're still listed here. A lot of the materials contain off-the-wall humor, and are intended to represent Quirkz Media's playful spirit, but aren't meant to be representative of current business-quality work. In other words: this stuff is here just for fun.